The platform for
e-commerce data
An interactive database of 4,234,344 active e-commerce stores across 24 platforms.
Ideal for lead generation, data enrichment, market research and alternative investment data.
Store Leads gives marketing agencies and app developers the information needed to succeed.
Use our data to help merchants around the world grow.

Use Cases
Lead Generation

Turbo charge your prospecting. On average, 20,000 new active stores are added every week. Our powerful segmentation features help to define the perfect audience.

Data enrichment

Augment your leads database to make better prioritization decisions. Take advantage of our CRM integrations or build your own enrichment solution using our API.

Market Research

Use our historical information to find trending stores, apps, technologies and industry verticals.
Data
Over 30 attributes tracked.
Our database is updated weekly to ensure that our extensive set of attributes are timely and accurate. Use any combination of 60 search filters to segment the database and find just the right audience.
Firmographic Attributes
Merchant name
Category/Industry vertical
Creation date
Estimated monthly sales
Employee count
Product count
Country
Company Location
Language
Rank
Our segmentation feature supports all firmographic attributes, so it's easy to run complex queries like: "all Apparel stores using Shopify in the US selling at least 10 products".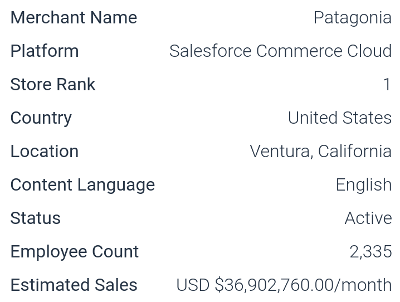 Social Media Accounts and Contact Info
Social media accounts and follower counts on the following networks are included.
Facebook
Twitter
Instagram
Pinterest
Snapchat
YouTube
LinkedIn
Easily segment stores by social media presence and number of followers. You can even search and sort by follower count growth rate making it trivial to find brands that are growing or shrinking.
Contact Information
Phone numbers
Email addresses (non-personal)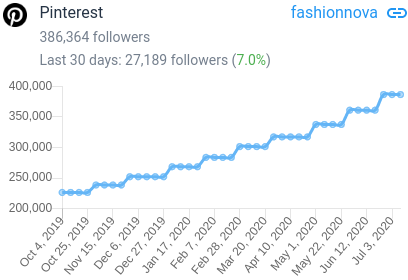 Technographic Attributes
E-Commerce platform
Installed apps
Date of app install
Historic change log of app installs/uninstalls
Estimated monthly app spend
Third-party technologies
Pricing plan
Top-level domains
Domain status
Theme
Theme Vendor
Theme Style
See which apps and third-party technologies are installed on each store along with the installation date. Look at the change log to see the date of every app install and uninstall.
Segment stores by app or technology installation date. You can even search for (or filter out) all stores running any drop-shipping app.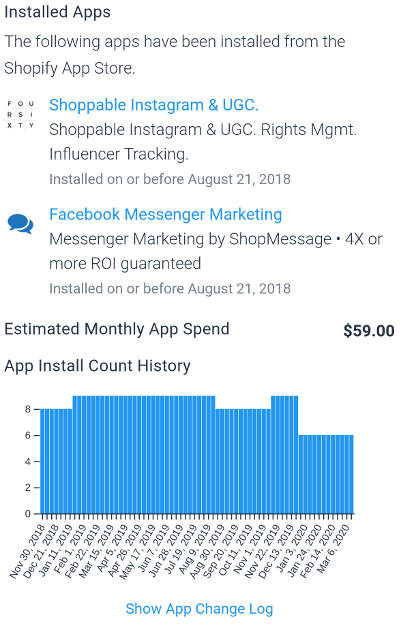 Learn more about our platform-specific attributes.
Testimonials
"There is no other site out there that provides this level of detail at a reasonable rate."

"I use Store Leads when I need to know the technology trends happening in the eCommerce market. They've been a great partner to us."
Pricing
The lowest prices in the industry.
Get a 15% discount with a yearly plan.
For interactive use in our UI.
2 e-commerce platforms

2,000 searches per month

All search filters

Social media accounts

Contact information

Installed apps

Third-party technologies

Themes

Export
Fully featured plan - includes exports.
All Premium features plus:

Up to 3 users

Unlimited searches

Unlimited exports

Unlimited API access

Automated HubSpot enrichment

Automated Outreach enrichment

Automated Salesforce enrichment
For large teams or unlimited platforms.
All Pro features plus:

Up to 10 users

All e-commerce platforms
Cancel at any time. Prices in USD.
Contact us for custom pricing or if you need more users.
Create a free account to see a limited preview.
Integrations
Get more value out of your favorite tools with our detailed store data.
Existing Integrations
Take advantage of our existing integrations to enrich data in your CRM to help make better prioritization decisions.
Custom Integrations
Build your own integration using our API. Anything is possible including:
Augment your custom leads database.
Add our data to your churn analysis tool to correlate lost revenue with events (for instance, installation of a competitive app).
What data is available for each store?
How often is the data updated?
Which e-commerce platforms are supported?
The database contains active stores on the following platforms.
| | |
| --- | --- |
| 1,703,270 | WooCommerce stores |
| 1,344,890 | Shopify stores |
| 483,740 | Wix stores |
| 169,658 | PrestaShop stores |
| 133,383 | Magento stores |
| 126,520 | Big Cartel stores |
| 97,850 | Square Online stores |
| 73,887 | Ecwid stores |
| 46,784 | Big Commerce stores |
| 24,483 | Squarespace stores |
| 9,945 | Volusion stores |
| 7,273 | 3DCart stores |
| 3,727 | Lightspeed stores |
| 3,521 | Salesforce Commerce Cloud stores |
| 1,464 | Webflow stores |
| 1,211 | Miva Merchant stores |
| 737 | Spree Commerce stores |
| 689 | ExpandCart stores |
| 394 | Zid stores |
| 235 | Shopware stores |
| 229 | Oracle Commerce stores |
| 202 | Salla stores |
| 160 | Oracle CX Commerce stores |
| 92 | ecomz stores |
How many stores are added every month?
On average, in early-2020, 20,000 new active stores are added every week.
How many stores are active?
The database includes 4,234,344 active stores, 70,015 inactive stores and another 383,834 stores that are password-protected (which means that they are wholesale businesses requiring an account or they may launch soon).