Lists
A list is a group of stores that you create for any reason. Often lists are created to track prospects. Lists can be created in a few different ways:
Saved search
Manually adding a store to a list
Uploading a list of domains
Creating A List By Saving a Search
This is the most common way to create a list and it results in a list that is dynamic, meaning that the stores within the list change as data changes. Every week, thousands of new stores are added and removed from the database and store data is constantly changing. Saving a search to a list ensures that the list will always contain stores that match your search criteria.
To save a search to a list, you can click the star icon at the top of the search filters.

You'll be asked to provide a name for the new List.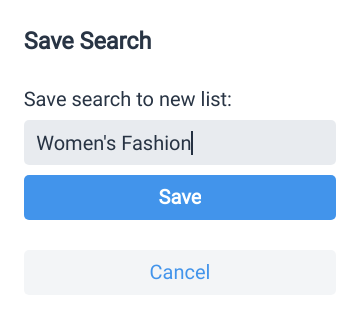 Creating A List By Manually Adding A Store
To add a store to a list manually, go to the List tab of the Domain details view and click the Add to List button.

You'll be asked if you want to add the store to an existing list or create a new one. If a store belongs to a list, you also have the option to remove the store from the list.
Unlike dynamic lists created by saving searches, lists that are created by manually adding stores are static. The stores in the list do not change unless you manually add or remove stores from the list.
Uploading A List Of Domains
It's also possible to create a list by uploading a CSV file that contains a list of your own domains.
These lists are also static and do not change unless you manually add or remove stores from the list.
See All Lists
To see all your existing lists, go to the List page.
The List page shows all your lists. You may even notice some special lists (called "Favorites" and "Notes") that are automatically created for your account to keep track of stores that have been favorited and stores for which you have written a note respectively.
When you click on a List, you'll see details for the list. The List Detail view also lets you perform tasks like renaming or deleting the list.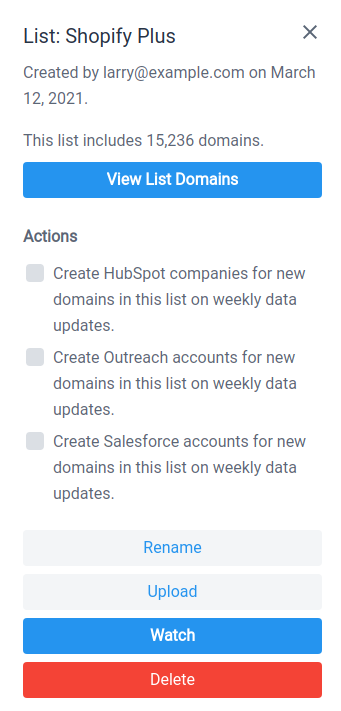 Synchronizing A List With Your CRM
One of the most important features of Lists is the ability to synchronize lists to your CRM. These features can be enabled in the Actions section of the List Detail view.
As an example, let's say that you have created a list through a saved search that identifies your most promising prospects. You'd like these prospect to always exist in your CRM so that your sales team can reach out to them. To do this, enable the action that corresponds to your CRM. Note that you must first enable a CRM integration to use this feature.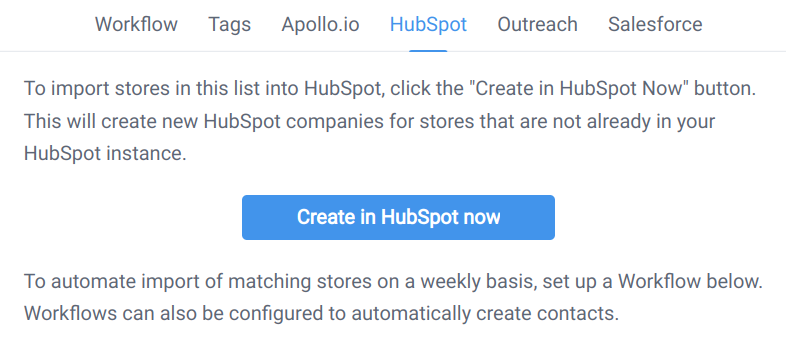 When a CRM sync action is enabled, every time we do our weekly data updates, we'll ensure that any stores that are in the list will also exist in your CRM. So if your list is defined as a saved search that matches all Shopify Plus stores, all new Shopify Plus stores that were added over the last week will be added to your CRM automatically.
Instead of waiting for the next weekly update, you can also click the "Create in ... Now" button to immediately create records in your CRM for all stores that match the search (and are not already in your CRM).
Watching A List For Changes
Workflows allow you to receive an email or webhook notification summarizing stores that have been added to (or removed from) a list.
Most of the time, you'll want to create a workflow on a list that has been created by saving a search. Those list are dynamic and change automatically every time we do our weekly data updates. List that are created by manually adding domains (or uploading a CSV file) are less likely to change. You may still want workflows for these lists if you are continuously making manual changes to the lists, but most of the time you'll only want workflows for lists created by saving a search.