Advanced search preserves filters
Advanced Search can be a little tricky to use but it is only option if you want to run complex searches (like filtering out stores running a specific app).
Often, you'll start by running a Basic Search and later realize that you need to switch to Advanced Search to get the best results. In doing so, you have to enter the search parameters again because switching to Advanced Search would result in a brand new search.
Now, when you switch to an Advanced Search, we'll automatically preserve any Basic Search filters entered. As an example, if you entered the follow Basic Search filters: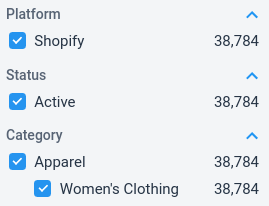 And then switched to Advanced Search, we now automatically convert those Basic Search filters to the equivalent Advanced Search filters.

We hope this change saves you a lot of time. If you don't want search filters preserved after switching to Advanced Search, just click Clear and your search filters will be removed.