The State of XShoppy
XShoppy is an ecommerce platform based in China.
Quarterly Growth
At present, there are 10,866 live stores running on the XShoppy platform.
Here is the quarter-over-quarter growth of stores running XShoppy.
Quarter
New Active Stores
Cumulative Stores by Quarter
It's hard to know exactly when a XShoppy store was first created but we use a heuristic combining DNS and WHOIS data that provides a reasonable approximation.
Top Stores
Here are the top stores, powered by XShoppy, ordered by worldwide store rank.
todaywillow
62,341
2021/02/19
Lunawigs
70,160
2018/11/23
ninewattle
107,753
2021/01/15
picdouy
114,930
2020/03/27
New Stores
Here are the 5 highest-ranked new stores that are running XShoppy.
Platform Wins
Over the last 90 days, XShoppy has taken 719 merchants from competitive platforms.
Platform Win Stores
Here are the top stores won from competitive platforms.
Platform Losses
Over the last 90 days, XShoppy has lost 92 merchants to competitive platforms.
Platform Loss Stores
Here are the top stores lost to competitive platforms.
Pricing Plan Breakdown
Here is the pricing plan breakdown for stores on XShoppy.
Category Breakdown
Here are the top 20 industry verticals for stores on XShoppy.
Country Breakdown
The largest part of XShoppy's install base is within the United States, but they have a solid presence within the United Kingdom, Canada and Australia as well.
With a paid account, stores can also be segmented by region and city.
Social Media and Contact Info
Facebook, Twitter, Instagram and Pinterest have significant presence within the XShoppy install base, with Facebook and Instagram especially showing quite strongly.
As expected, email remains an extremely popular communication channel.
Third-Party Technologies
Many XShoppy merchants run third-party technologies on their store in addition to apps from the XShoppy App Store. We're tracking 17 different technologies that have 29,570 collective installs on XShoppy stores.
Here are the top 10 third-party technologies, ordered by number of installs, across all XShoppy stores.
Themes
XShoppy has an active and extension theme store. Merchants using XShoppy can use one of those pre-built theme or develop their own custom theme to meet their needs. We're currently tracking over 1 different XShoppy themes. Here are the top themes.
Top-level Domain Distribution
The vast majority of XShoppy stores use a .com domain. This is not surprising since alternate top-level domains have only recently been introduced and there is still a certain cachet associated with .com domains.
That said, you'll find stark regional differences in certain countries. In Australia, .com.au is the most common top-level domain with .com a close second. This is the exception however as .com domains dominate in virtually all other countries.
Get more insights on XShoppy stores
Our search interface is easy to use and helps you find the XShoppy stores that are relevant to you.
You can segment stores on a variety of dimensions:
Social Media accounts
Email address
Phone numbers
Country
Third-party technologies
Creation date
Platform
Top-level domains
Domain status
Domain type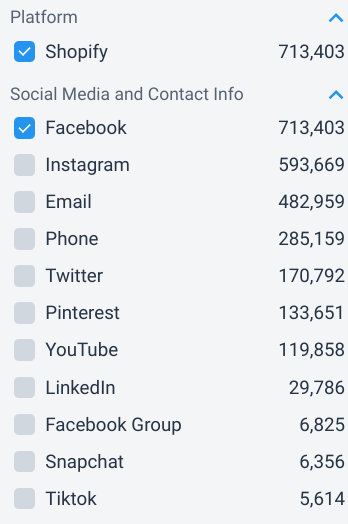 For more insights on XShoppy stores, create a free account and have a look for yourself.