Show CRM data within Store Leads
We've been working hard to make your CRM integrations more useful. In the past, when you integrated Store Leads with your CRM, the relationship was basically unidirectional. We would push data to your CRM by creating or enriching CRM records. We didn't do much in the way of pulling data from your CRM but there's a lot of value in doing so.
As a first step, it's now possible to see your CRM data directly within Store Leads. If you have one of our CRM integrations enabled (HubSpot, Salesforce or Outreach), then you'll see a new tab in the store details page.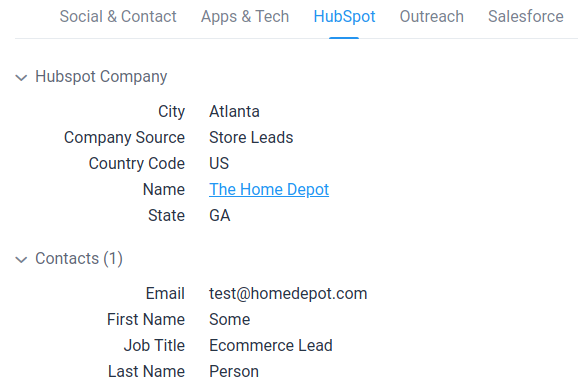 There will be one tab for each CRM integration you have enabled. In the screenshot above, we're showing the HubSpot tab. The HubSpot tab shows company and contact data directly from HubSpot for the store that you're looking at. You can customize the information pulled from the CRM by clicking on the settings icon in the upper right corner of the tab.

Depending on the integration, the following data is available:
HubSpot

Company properties
Contacts

Salesforce

Account attributes
Leads
Contacts

Outreach