Ecommerce stores have started to use TikTok, the latest social media craze, to engage with their customers. Adoption is still relatively low but growing quickly. We've just added TikTok accounts for over 2,000 stores in our database.
Use the Social Media and Contact Info search filter to refine the list of domains to include only domains with accounts on specific social media networks.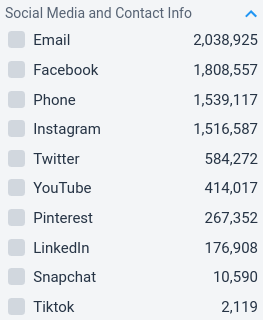 Click on TikTok and you'll only see domains that have a TikTok account. Click on one of the domains and you'll see the TikTok account in the "Social & Contact" section.

Since TikTok is new, we don't yet have a history of follower counts. In the coming weeks, you'll see a time series graph of historical TikTok followers. This lets you quickly see whether a brand is trending or falling on TikTok.