HubSpot Data Enrichment for Ecommerce Stores
HubSpot is a popular CRM used by marketing and sales teams to track interactions with their prospects and customers. CRMs are tremendously useful tools but their value is often hampered by incomplete or out-of-date information.
We have just put the finishing touches on an integration with Hubspot that automatically enriches companies in your CRM. This enhances the data you already possess, allowing you to make more informed decisions. We ensure that your HubSpot company records are always up-to-date. When our database is updated (weekly), your HubSpot companies are automatically updated. When you create a new Company in HubSpot, or change the domain of a Company, it is updated automatically. No effort required.
The Hubspot integration adds Store Leads information as HubSpot Company Properties in a dedicated Company Property Group named "Store Leads". This ensures that there is no conflict with other properties you may be storing on your companies in Hubspot.
To enable the HubSpot integration, visit the Integrations page.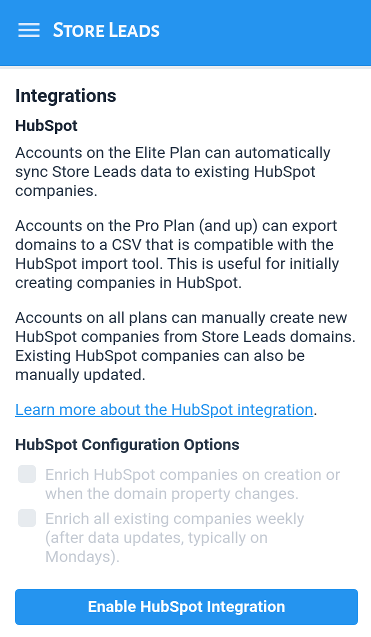 Now, click the Enable HubSpot Integration button. You'll be taken to the HubSpot website where you may be asked to login to your HubSpot account and approve a request to allow Store Leads to update data in your HubSpot account. Once the request is approved, you'll automatically be returned to the Store Leads integrations page where you can configure the integration.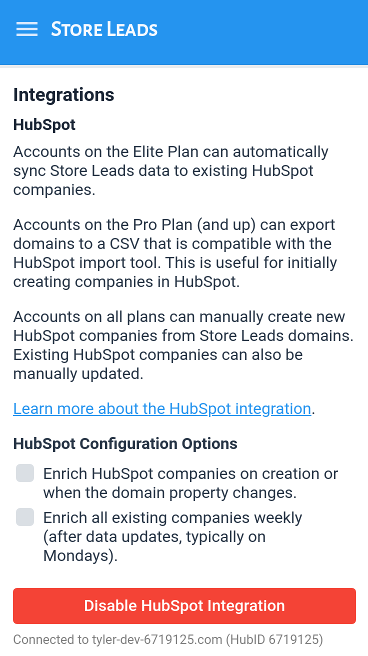 Next, you'll probably want to enable the automated data enrichment options described above. There are 2 options.
Enrich HubSpot companies on creation or when the domain property changes. Enable this option if you want to update HubSpot companies as soon as they are created or the domain property is changed.
Enrich all existing companies weekly (after data updates, typically on Mondays). Enable this option to update all of your HubSpot companies when we do our weekly data updates.
Note that both of these options are only available to accounts on the Pro and Elite plans, but the features described in the rest of this blog post can be used on any plan.
New HubSpot Menu
When the HubSpot integration is enabled, you'll see a new HubSpot icon in the top right corner of each store in Store Leads.

Click on this icon to activate HubSpot-specific features.

If you're looking at a store that does not already exist in your HubSpot account, you'll be given the option to create a HubSpot company. If you're looking at a store that already exists in your HubSpot account, then you'll be given the following options.
Open in HubSpot opens the associated HubSpot Company record in a new browser tab.
Sync Company Properties triggers an immediate sync of Store Leads data (for this store) to HubSpot.
We'll be adding more HubSpot-specific features shortly, so keep watching.