When Store Leads was first launched, we updated the database monthly sometime around the 7th day of the month. But a lot can change in a month and, frankly, it wasn't great to have to wait so long for updates.
We've been working hard to get data into your hands more quickly. We're happy to announce that we'll be updating the database on a weekly basis, so you'll have access to those new stores immediately.
In additional, stores can be segmented on the week in which the store was created.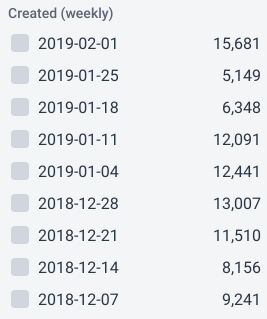 Note that weekly data is only available to users on a paid plan.