How to: List all sites using Shopify
Let's say you need to identify all sites using Shopify as an ecommerce provider. At the time of this writing, there are well over 820,000 live Shopify domains. This data can help you do market research and competitive research.
We've gone through the trouble of assembling a complete list of Shopify stores. We don't just provide raw data (though you can download the data to a CSV file), we have an interactive database that lets you search for specific domains or filter domains by a variety of dimensions including country, creation date and store rank.
Best of all, you can create an account for free to see how it works. Some features are reserved for paid accounts but you can get a good feel for how things work with a free account.
To list all sites using Shopify, simply login to your free account and you'll see a list of domains. By default, the domains are ordered by their worldwide rank, with the most popular domains listed first. You can paginate through the list by clicking the page numbers at the bottom.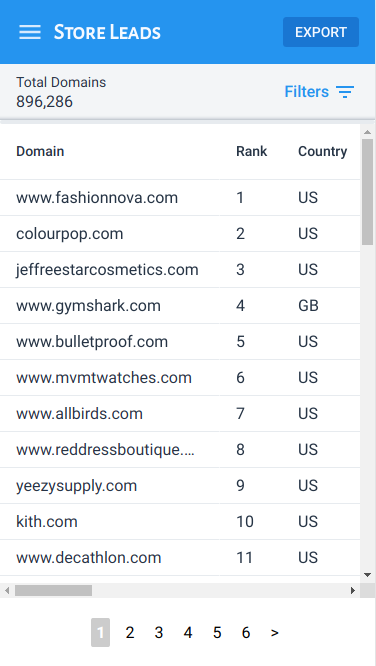 You can also filter domains by a variety of dimensions including:
Domain name search
With Email Addresses
With Facebook
With Twitter
With Instagram
With Pinterest
With Snapchat
By Country
By Top-level Domain
By Creation Date
And more.
Note that some of these filters require a paid account. Also, your free account is limited to 50 lifetime searches.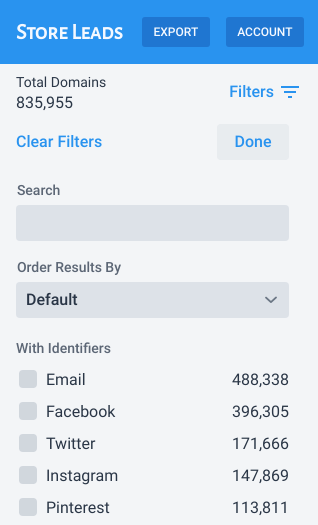 You can download the list of domains by clicking the Export button at the top. The export reflects your current search, so if you've filtering the domains, you'll only download the domains matching your search.
Note that a paid account is also required to export.